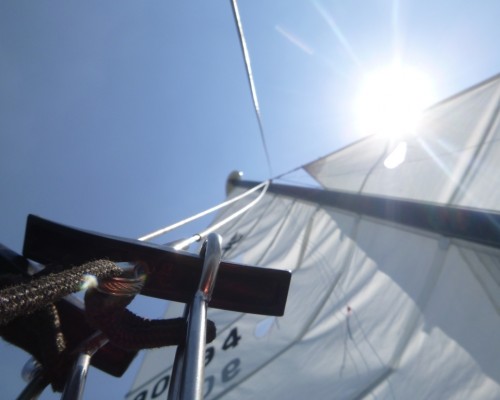 Sailing a Hobie Cat – Bronkhorstpruit Dam
Sailing has been a part of my family for years, with my dad and uncle both owning their own Hobie's. As kids we would spend many a weekend at the Vaal and Hartbeespoort, out on the water all day long. But over time, you could put it down to life getting in the way, being too busy or just kids growing up and interests changing, (in my case, the allure of Boy bands, shoes and discos becoming priority), either way, sailing became one of those things I would see my dad's face light up every time talking about, and of course the good ol', "ah we should definitely try go out sailing sometime" was uttered.. but it never did happen… back to work, school, busy, busy, busy.
Until last year… I started Googling one day, "Hobie cats for hire Johannesburg"; "where to hire hobies in Johannesburg" and so on. The more I searched, the more I could only find people selling their boats, not hiring them out. It made me more determined to find what I was looking for. Until i finally stumbled across The Catamaran Club Bronkhorstpruit. This was it! I rounded up the family, gave them date options, and before we knew it, with the help of Tim, the manager, we were all heading to Bronkhorstpruit dam, just over an hours drive outside of Joburg.
Every fun memory I had as a child of being out on the water came flooding back, the wind, the sails, the freedom, I loved every minute of it.
And my dad… face light up moment, x100!
He was out on the water most of the time, being the captain of the ship so to speak, and being the only one that can actually sail. My brother there by his side though, and me asking millions of questions about the mast, the rigs and what this and that was.
The dam did have a few speed boats cruising around on it, but it's not the biggest dam, so not many speedsters would choose to go there, making it perfect for sailing. And at the heart of summer months, really not busy at all surprisingly.
Hobie Cat hire: R250
Times: 08:00 – 16:00
Entrance fee: R80 per adult; R40 per child per day (kids under 12 – free)
Food: Bring along your own picnic/braai or you can order food from the pub
Facilities: Clean bathrooms, swimming pool, jungle gym, volley ball court
Accommodation: You can stay over for the night/weekend in a cosy 4-sleeper cabin (R120 p/n)
Own you own Hobie? Leave it on the premises for R175 pm
Want to own a small house on the property? Sites range from R10k – R90k, plus a membership fee of R10,400 per year
Contact details: www.catclub.co.za or email Tim, manager@thecatclub.co.za
Note: You have to know how to rig the boat yourself and get it into the water. Beginners best go with someone who knows what they are doing.
We are all booked and ready to go back next month, and this time… I am determined to learn to sail properly! Excited much? Indeed I am 🙂 As are my family and especially my dad of course!